Detector Removal Tool (Patented)
For details of 4-20 FT Extension Pole, please click here to visit the product page.

Too lazy to read?
Contact our staff Caysie for any question.
Function
Design for all situations that require detector heads or light bulb replacement. By installing on the extension pole, detector test or replacement can be completed without a ladder or scissor lift, saving your time and cost. It can be used at any location, including stairwells, narrow places, bumping floors etc..
How it works?
CCFireTester Detector Removal Tool grabs tighter no matter twisting clockwise or counterclockwise.
Feature
Most heat and smoke detector head can be replaced with the detector removal tool. (excluded detector which needs other progress before twist to remove detector base, e.g. Honeywell Model XLS-PS )

Designed for universal detectors and usages with Large Grabbing Range. CCFireTester Detector Removal Tool is compatible with detectors and light bulbs dia. within 44~170mm.

Support tilting up to 30°, always remains steady even for angled usage.

Can adjust grabbing thickness and range based on the object.

The sticky fall-resistant pad can prevent the detector from falling off when removing.

Reference Scale provided, adjust grabbing thickness easily by following the advised height. Also provide an empty one for making marks yourself.

Suggesting buying with 4-20 FT Extension Pole.

No need to push up for friction to twist off or install, no worries about pushing up T-bar ceilings (dropped ceilings) even for detectors with tight heads.

Small Volume for clear aiming view and Light Weight for effortless fire inspection. Only 540g with short sticks.

Can be installed on Solo or other extension poles.
When will you need it?
Reset fire alarm by disconnecting the smoke detector head after fire alarm testing.

Inspection site unavailable or inconvenient for ladders, scaffolds, or scissor lifts, e.g. between stairs.

Detectors' head which require frequent replacement or cleaning, such as those which send false alarms frequently. (e.g. detectors in flour factory or other dusty environment)

Detector circuit and fire alarm system connection checking.
Specification
※ Detector removal tool price EXCLUDED extension poles ※

Standard Equipment
Detector Removal Tool *1
Short Sticks *3
Long Sticks (with slip-resistant silicone cover) *3
Fall-resistant pad *5
Screw nut (for short and long sticks) *4
Reference Scale *1 (of detector cover thickness and suggested grabbing point)
Empty Scale *1 (able to mark the grabbing point of your commonly replaced detectors)
Safety Net *2
All-Purpose Adapter for extension pole (with hose clamp) *1
Instruction manual *1
Specification
Detector & Factory Light Bulb Grabbing Kit

Detector Removal Tool - Model CC03V2
Material: 304 Stainless Steel
Grabbing Diameter: Dia.44~170mm
Grabbing Angle: Vertical ~ Tilt 30°

Detector thickness available to grab
Short Stick: about 5~50mm
Long Stick: about 0~185mm

Weight
With Short Stick: about 540g
With Long Stick: 620g

All-Purpose Adapter for Extension Poles: 49g
N.W. (exclude packaging box): 899g
Minimum size: about 120*120*127 mm
Maximum size: about 200*200*161 mm
Package information
Weight:1.5kg.
Dimensions:21*19*17cm.
< Click here for Extension Pole information >
Application
For Installing on Solo and other extension poles- All-purpose Adapter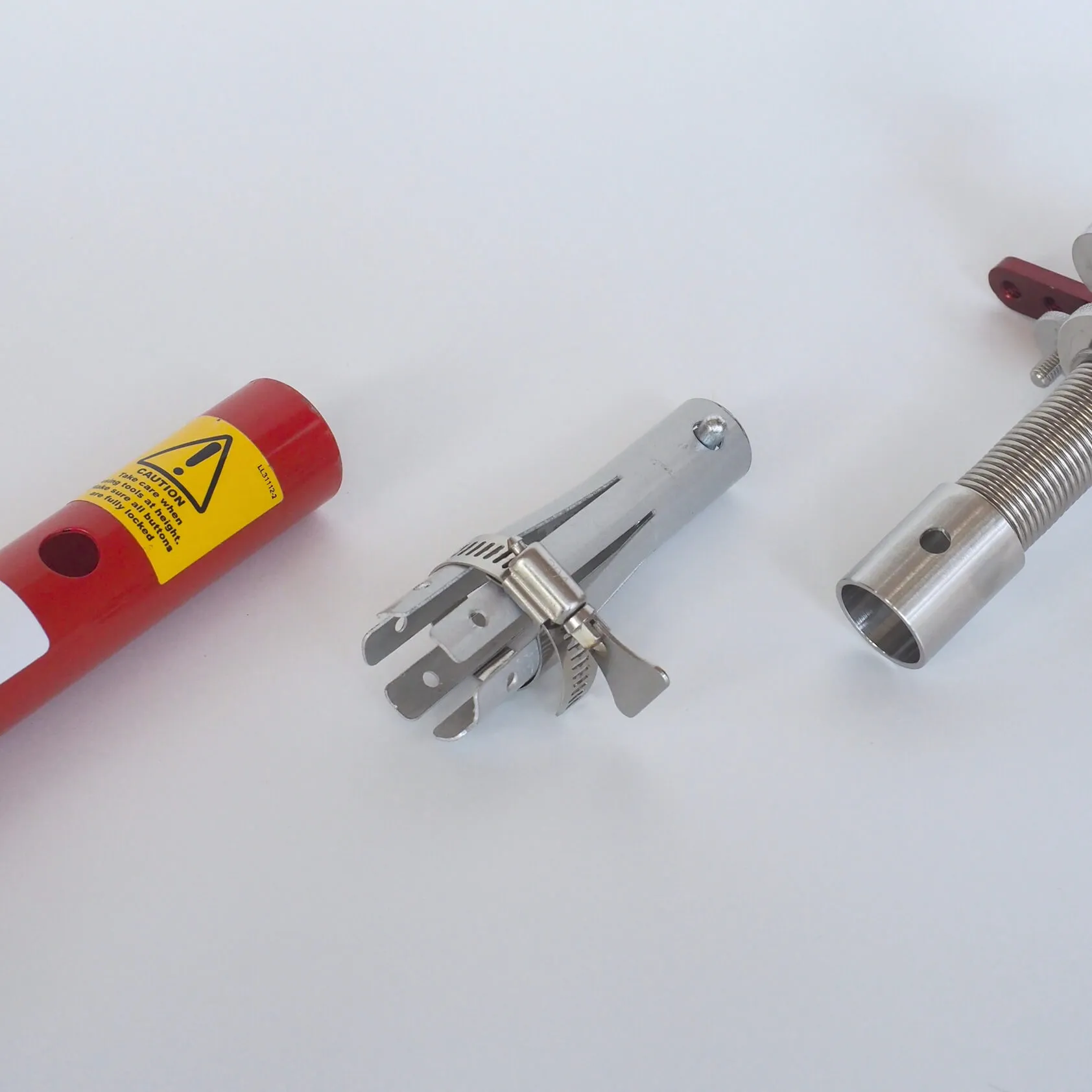 Special Adapter only for Solo extension pole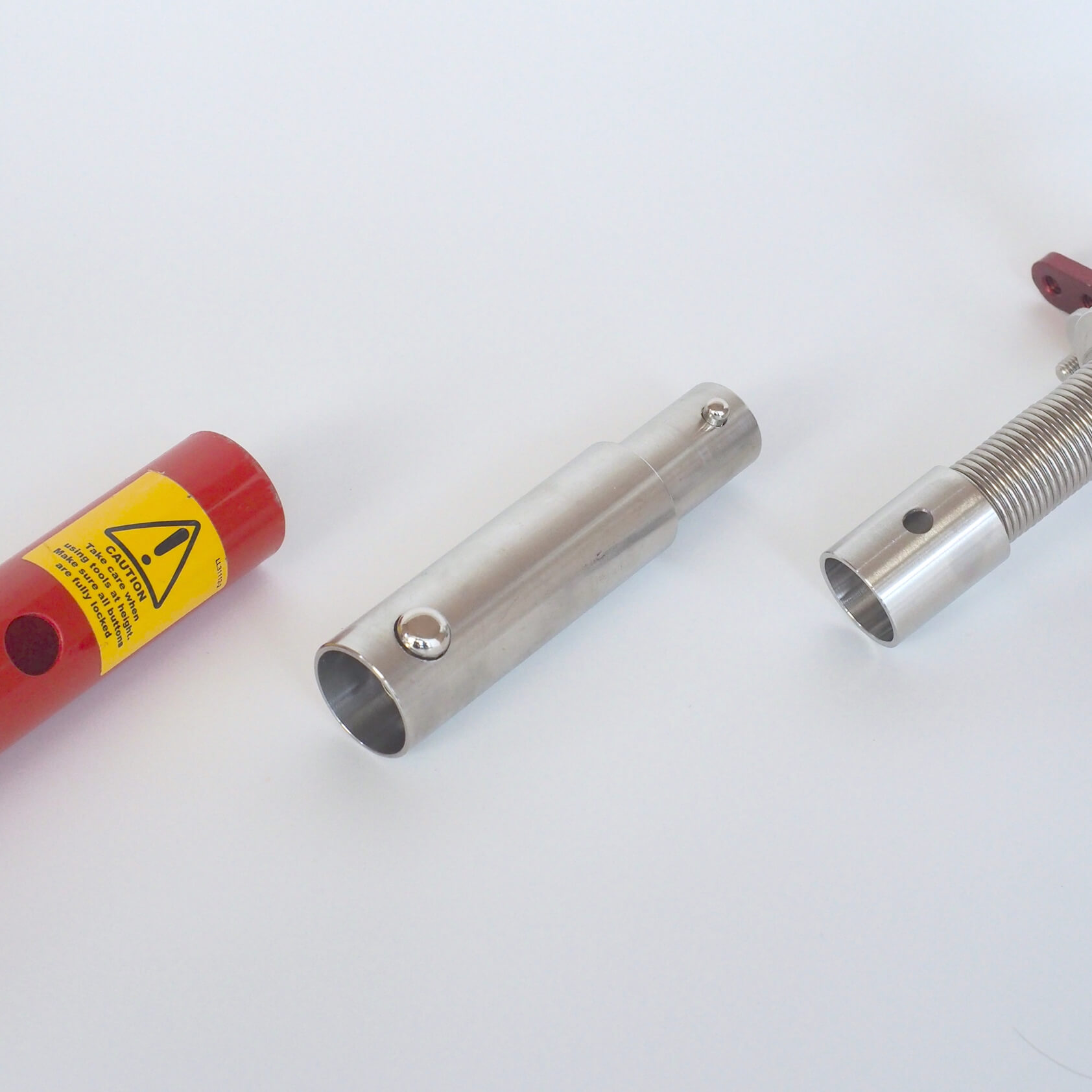 Tips
(Please turn on the CC)
Viscosity of the fall-resistant pad adjustable. Lightly stick some tissue scraps on the pad for less viscosity. For higher viscosity, clean the dusts on the pad with water or grain alcohol and wet paper towel.

Adjust the height of the stick according to the detector head's thickness before grabbing to prevent the tool from grabbing the mounting plate (detector base).

Please check where the LED light is for grabbing smoothly without bumping into the plate.

When removing the detector cover, aim the red part 1 cm right from the LED light.

When installing the detector cover, align the plug of the cover and the red part. Then aim them to the plug on the plate for faster installation.

For angled usage, loosen the round part. We suggest adjusting the sticks again. The suitable height for the sticks might be different due to angled usage.
Caution
(Please turn on the CC)



The Detector Removal Tool can't replace detectors and light bulb bases.

The Detector Removal Tool can only be used with the extension poles that won't be loosen by twisting.

When taking the Detector Removal Tool away from the target, slightly remove from the edge of the fall-resistant pad or adjust the viscosity before usage in case damaging the detector when pulling down with high viscosity.

The Detector Removal Tool is highly electric conductive.

Please equip with workplace safety equipment or personal protective equipment (e.g. safety helmet) when using this product.

The Detector Removal Tool can't be used on hardwired detectors.
For grabbing heat and smoke detectors
If the detector base is fixed with only a screw, please stop the replacement in case tearing the wires apart from the plate.

If the detector is unable to be twisted by the tool, please check if the sticks have bumped into the LED light. Wires and the detector base might be damaged if removed forcibly.
For grabbing factory light bulbs
Avoid using in a wire-exposed environment or stormy weather conditions. Make sure the power has been off before usage of the Detector Removal Tool.

Check if the sticks have grab on the base when unable to remove. Do not remove it forcibly.

The Detector Removal Tool can't be used on
light bulbs that aren't fixed firmly.

light bulbs that aren't fixed by twisting in.

light bulbs that are about to be broken or cracked. (The scraps might fall out)
For information of the previous version, please visit this page.
Comparison Chart
Detector Removal Tool Only



CCFireTester CC03

Solo 200

Price(USD)

$289

$571


*Price fluctuate, its the lowest price we found.




Weight

about 540g
light, easy to carry

about 1450g




Aiming Veiw

won't be blocked




will be blocked




Working Principle

grabs tighter no matter twisting clockwise or counterclockwise, won't lift up light ceiling boards




push up the tool till there's enough friction to remove




Be used on T-bar ceiling

v




x




Grabbing Range

universal, 44~170mm, available for factory light bulbs




universal, 65~110mm




Fall-Resistant

v




v




Certification

x




auxiliary tool

UL listed
Tool + Extension Pole



CCFireTester

Solo

Price - Pole (USD)




$247



$860


*Price fluctuate, its the lowest price we found.




Price - Tool (USD)




$289




$571




*Price fluctuate, its the lowest price we found.




Price - Total (USD)




$536




$1431




*Price fluctuate, its the lowest price we found.




Reachable Height (M)

7.9

6

Weight of Pole+Tool

(CCFireTester Pole+Tool)
2.28+0.54=2.82
(Solo100+200)
1.85=1.1=2.95

Available to adjust any length/height

v

x

Max Extended Length

640

450

Length

120

?

Maetrial

aluminum alloy

glass fiber

Drop Resistance

v

x

Conductivity

conductive, insulated at lower part and bottom

non-conductive
Demonstration Video
Remove 9 detectors in one tool+one pole in one time-CC03V2
10 Meter demo - CC03V
Customer's Video - CC03V2
Customer's first try in our office with tips guiding
Customer's Video - CC03V2
Power company substation - CC03V1
Customer's first try in their office - CC03V2
Quotation & Inquiry
Due to high order volume, inquiry responses are temporarily paused. We prioritize processing paid orders through our website. Please use our checkout system for pricing estimates. For addresses outside the coverage area, kindly email us. Thank you!
Addional information:
Manufacturer name:CHANGCHI SECURITY EQUIPMENT CO. LTD.
Brand name:CCFireTester.
Lead time:about 10-13 working days after payment confirmed,

excluding customs processing time.

Country of origin:all of our products are made in Taiwan.
Data sheet:we describe out product detailedly on our website, you can directly print the product page as the data sheet.
Certification:our products are currently uncertified.
We sending products from:No.11, Lane 227, Ren-Ai Rd., West Dist., Chia-Yi City , Zip 60055, Taiwan
Warranty:Products are out of warranty when sold overseas.