FUNCTION & FEATURES
Too lazy too read?
Contact our staff Caysie for any question.
Functions
Clear out residue smoke after smoke detector testing. Avoid repeated false alarm after moving to next inspection area or leaving the inspection site.
How it works (Patented)
Auto Smoke Clearing Fan will operate when the infrared sensor sense the detector, automatically blows out smoke when getting close to the smoke detector.
When will you need it
When the height of the fire inspection site is over 15 feet, climbing on a ladder to twist off the detector head for cleaning out residue smoke and resetting fire alarm will be strenuous. In this situation, our Auto Smoke Clearing Fan, which is attached right next to your detector testers, can blow out residue smoke to avoid false alarm after resetting fire alarm. Also, fire alarm can be reset from FACP instead of climbing on ladder and twisting off smoke detector head.
Features'
- Operates with the sensor, automatically blows out smoke in 5 seconds.
- A single charge can last for testing 2000 detectors or 3 hours of nonstop usage.
- Can attach on Solo 330 Smoke Detector Tester, CCFireTester Smoke Detector Tester, CCFireTester 2in1 Tester, and other smoke detector testers.
- Set up with 9V PP3 rechargeable battery, easy for purchasing, charging and replacing.
- LED indicators lighting up while sensing the detector and operating.
- Can be charged with a power bank and USB plugs in car.
See how it works with Solo 330 Smoke Detector Tester !
SPECIFICATION
Standard Equipment
Packing Box (Plastic) * 1

Auto Smoke Clearing Fan *1

USB Charger Cable *1

Anti-dropping Chain Lanyard * 1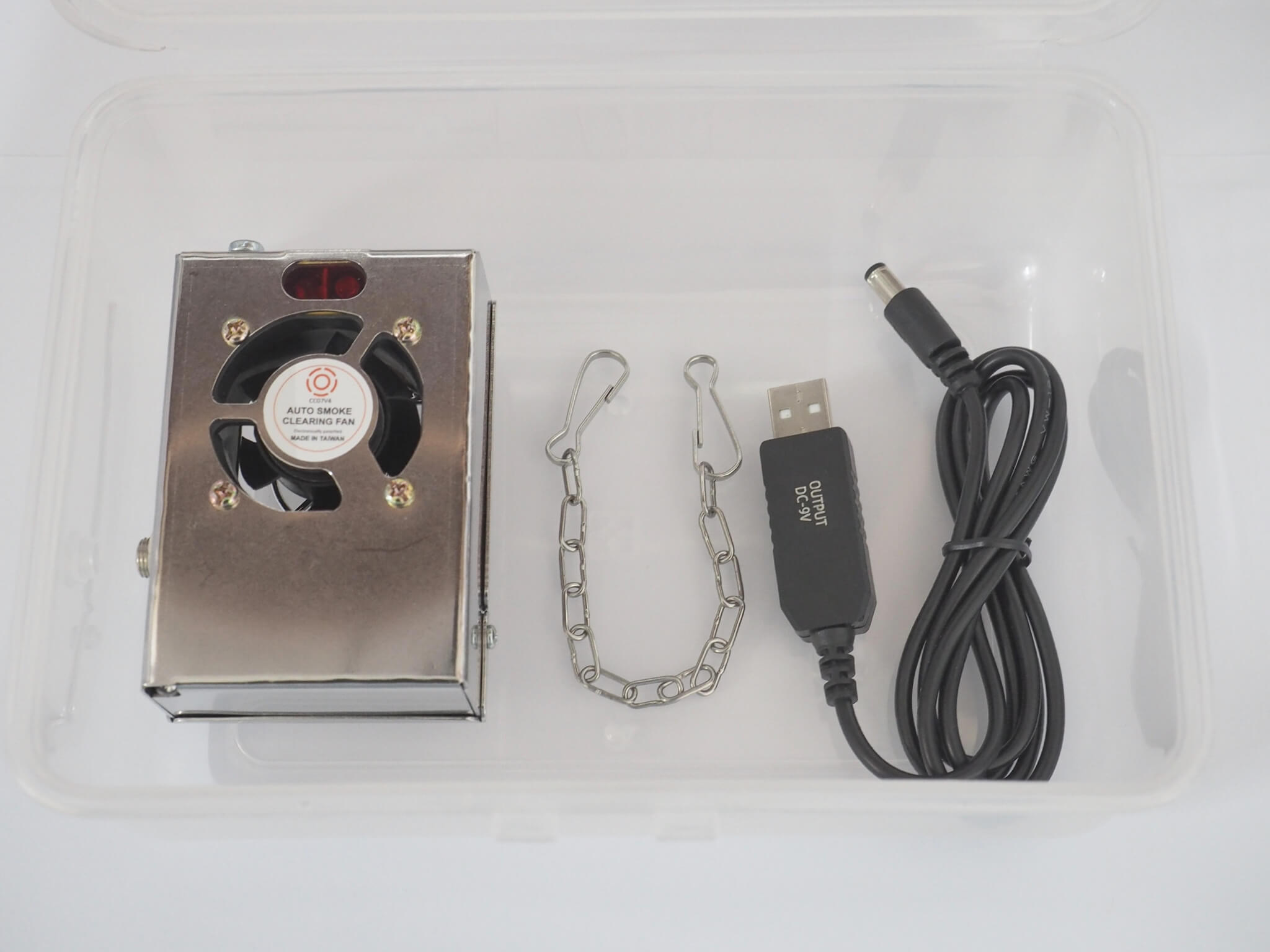 Specification
Auto Smoke Clearing Fan - Model CC07V2
Outer Shell Material: Stainless Steel
Voltage & Current: DC 9V / 0.25A
Size: 88L x 66W x 46thk mm
Weight: 214g (Included battery)
Wind Speed: 10m/s
Sensing Distance: 0 ~ 10 cm
Fan Charger:
Suitable for rechargeable PP3 Battery
Input: 110V~240V / 50-60Hz
Output: 8.4V/1A
Weight: 75g
Packing Box Size: 95L x 75W x 28thk mm
Charger Cable Length: 93cm
Fan Battery: (Not included in product)
Battery: Rechargeable PP3 Battery
Recommend Model: GN-9V
Current/Capacity: 140mA / 700mAh
Weight: 32g
Packing Box Size: 95L x 75W x 28thk mm
Charger Cable Length: 93cm
APPLICATION
For installing on CCFireTester Detector Testers
Please turn on the CC.
For installing on Solo330 Smoke Detector Tester
For Battery Replacement
Unscrew the battery cover at the back.

Insert new battery into the battery compartment.

Screw the battery cover, ready for usage.
Please turn on English CC.
Tips
Improper battery replacement, falling, and huge impact may cause loose contact of battery.




Adjust blowing angle by bending or pressing the latch.





CAUTION
General Information
This product is highly electrical conductive.

Make sure the Safety Chain is fastened properly. Improper handling might lead to instrument falling off.

Please be sure using Genuine Charger(voltage regulated function) for battery charging to ensure battery voltage tolerance and safety.

Improper handling and operation can lead to leakage of battery substances and products decomposition.

Please equip with workplace safety equipment or personal protective equipment (e.g. Safety Helmet)when using this product.


Battery Information
Only capable with rechargeable 9V lithium PP3 batteries.

Battery usage period might be different when using different battery model.

Fully charge battery can last for testing 2000 detectors or usage of approximate 3 hours. Lasting time might differ according to the battery life and battery model.

Please turn off the instrument when charging the battery.


Recommended initial charging time is 3 hours. Next charging time can be reduced to 1.5 hours.

Please recharge the battery for 1 hour every 3 months to extend the battery life.

To avoid reducing Battery lifespan, make sure the instrument is stored under room temperature, dry place and away from fire.

Any physical contact or inhalation of battery leakage substance should be avoided.
If there is any contact with the battery leakage substance, flush the contact position(s) immediately with water and seek medical attention as soon as possible.
Quotation & Inquiry
Due to high order volume, inquiry responses are temporarily paused. We prioritize processing paid orders through our website. Please use our checkout system for pricing estimates. For addresses outside the coverage area, kindly email us. Thank you!
Addional information:
Manufacturer name:CHANGCHI SECURITY EQUIPMENT CO. LTD.
Brand name:CCFireTester.
Lead time:about 10-13 working days after payment confirmed,

excluding customs processing time.

Country of origin:all of our products are made in Taiwan.
Data sheet:we describe out product detailedly on our website, you can directly print the product page as the data sheet.
Certification:our products are currently uncertified.
We sending products from:No.11, Lane 227, Ren-Ai Rd., West Dist., Chia-Yi City , Zip 60055, Taiwan
Warranty:Products are out of warranty when sold overseas.